How to Repair a Roof: Can You DIY It?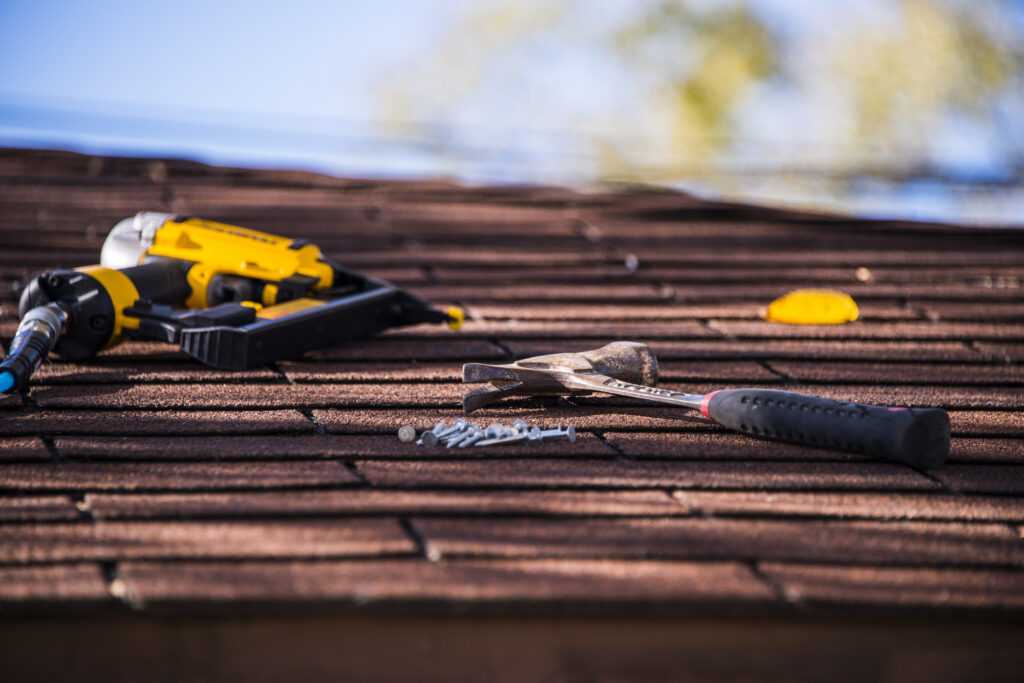 Your roof doesn't retain its glamor and structural integrity forever. Sooner or later, time takes a toll on it, and it becomes a shadow of what it once was. When this happens, you'll have no other option but to repair or replace the roof.
You can either choose to do these roof repairs by yourself or get the professionals to handle it. Nowadays, there are DIY tutorials on just about anything on YouTube. Just Googling "how to repair a roof," will expose you to hundreds of tutorials and instructables on how to do just that.
If you're planning to repair your roof on your own, you'll have to choose between doing it yourself and getting the professionals. Yes, you can repair a roof by yourself, but we wouldn't recommend it.
Let's look at why leaving repairs to the pros is the correct way to repair a roof.
The Work Quality
Let's face it, even though you have considerable DIY skills; you are probably unlikely to repair a roof on your won. That's because there's a lot of technical skill and labor that goes into fixing a roof. Even simples repairs may not be as easy as you think.
Professional roofing contractors guarantee quality work regardless of what you throw at them. That's because they have skilled experts who know everything about repairing roofs. Furthermore, the company has all the experience you need for simple roof repairs like damaged shingles to complete replacements.
Here are a couple of benefits you get with most roofing contractors:-
Free estimates and assessments for your roof
Guarantees for your roof repairs
Warranties for your roof replacements
Industry-class quality work
Most roofing companies would happily throw in some complimentary services as an incentive for their customers. So with your roof repairs, you might get a full-service interior or exterior roof inspection. This inspection will spot potential problems early on, and you can fix them before they worsen.
Apart from the work quality, you also get:-
Professional tools and equipment to ensure a clean, exhaustive and quick job
Increase home value because of professional repairs
Safety for the roofing technicians and the house occupants
Early diagnostics of potentially serious roofing issues
Clearly, you need professionals to handle your roof repairs to enjoy these benefits.
Roofing Repairs That You Should Let Your Roofing Company Handle
As long as it has anything to do with the roof, a roofing company can handle it. Here are some specialties of roofing companies.
Shingle Repairs and Replacements
Your roof might just need a little shingle replacement for the cracked or damaged shingles. Replacing a few missing or damaged shingles should be a piece of cake. In most cases, the shingles that need replacement are localized to a particular section.
Replacing shingles on your roof isn't rocket science, but it isn't also as easy as you'd think. First, you really have to prioritize safety, because one tiny slip could mean a trip to the emergency room. The second thing to keep in mind is that you need matching shingles for your roof.
The shingles must match with the ones on your roof, both in terms of color and style. The difference won't be so apparent from close by. However, the color difference becomes clearer from far away, making it look like there's a huge patch on the roof.
Also, you must remove the old shingles completely before installing new shingles. You can't just place the new shingles on top of the old ones; it could lead to a host of other issues that are costlier to address. To firmly secure the shingles in place, make sure you use both adhesive and nails.
For the sake of your safety and your roof's appearance, it's best to leave shingle repairs and replacements to the pros.
Semi-Reroofing
Some issues with the roof don't merit an entire overhaul of the roof. Instead, the roofing company will just reroof the part of the roof with issues. It makes no sense replacing the roof entirely when only a section of the roof has issues.
Partial-reroofing is a wise move, especially when your roof hasn't exceeded its age limit. If your roof is on its last legs, then the better option is to replace your entire roof.
The experts will strip all the shingles off the roof from one area of the roof and install new ones. In some instances, they will place the new shingles over the old ones, but it's not the best approach.
If they opt for the latter, they can only have one layer of shingles above the original shingles. Anything more than one layer could be too much weight for the roof to handle, and it could come crashing down.
Flashing
Not everything concerned with roof repairs has to do with shingles, sometimes it's the flashing that needs repairs. You can find the flashing around the chimneys or flashlights if you have them. Anywhere on the roof with gaps should have flashing to prevent water from getting into the house.
If you experience any leaks in the house, then there's a high chance that there's a problem with the flashing. In most cases, you must request for flashing repairs anytime you need partial or complete roof repairs.
The roofing experts start by renewing the seals; they do this by first removing the old mortars that secured the flashing. Next, they'll reseal along the flashing edges with a special type of caulking for the mortar. Flashing repair is very difficult and is something only for the professionals.
Roof Replacement
Replacing the entire roof is one task you can't undertake on your own, especially if you don't have any roofing experience. Despite the difficulty and technical challenges of a complete roof replacement, most people would still unhesitantly take it as a DIY project.
Roof replacement is a bit costly, and doing it on your own could save you a bundle in roofing costs. However, sometimes getting the professional to handle your reroofing for you could actually end up saving you a lot of money. That's considering that you might eventually have to call a professional roofing company if you fail to get it right the first time.
Wondering how to repair a roof? Leave the Job to Professionals
Roof repair isn't rocket science, but it isn't easy. For the sake of your safety and your roof, always get the pros to handle your roof repairs. Trying how to repair a roof on your own may actually end up costing more than when you hire professional roofers.
Leaving roofing to the pros is one thing, but finding the right roofing company is another. For repairs worth your money, you can only settle for the best. For professional, expedient roofing services, contact us today, and we'll sort you out.